Pumpkin season has arrived and now our favorite shops are filled with the aroma of pumpkin spice and all things autumn. A savory obsession that brings back memories and inspires us to create new ones. Celebrate National Pumpkin Day (October 26th) by tossing on a sweater and heading to a pumpkin patch! This is the time of the year where orange really is the new black.
History
Pumpkins originated in Central America over 7,500 years ago. After using the meaty inside to thicken stews and grind into flour, Native Americans would use the pumpkin's hard shell to store their goods during cold winters. At the fabled Thanksgiving feast, Native Americans introduced pumpkins to the Pilgrims. Because the Pilgrims loved their flavor so much, they brought seeds back to Europe, where they quickly became popular. These orange beauties have been used for centuries as symbols of abundance, protection, and prosperity. In the 18th century, placing them on windowsills and doorsteps was very common. It was believed that carving ghoulish faces into them would help protect the home from spirits.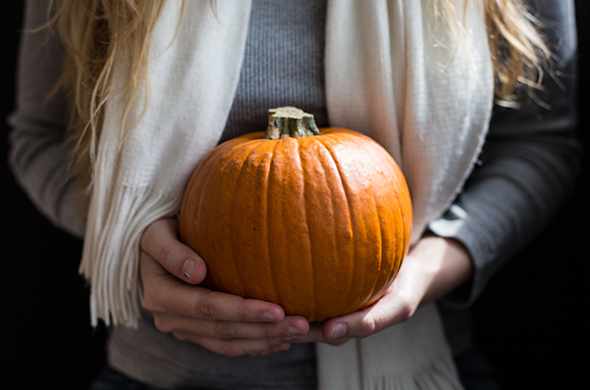 Nutritional Benefits
Rich in fiber, which will help you feel fuller for longer! One cup of canned pumpkin contains seven grams of fiber.
Low in calories – fewer than 30 calories per serving.
Full of vitamin A, which is critical for healthy vision and a strong immune system. One cup of raw pumpkin delivers nearly double your daily vitamin A needs.
One cup contains 2.5mg of lutein and zeaxanthin. These antioxidants have been shown to reduce the risk of chronic eye diseases.
May protect Type-1 diabetics by helping to lower high-blood sugar. A recent Chinese study found that extract of the Asian pumpkin helped protect the pancreatic cells of type-1 diabetics from further damage.
A good source of vitamin C for immunity.
The seeds are rich in cancer-fighting antioxidants, minerals zinc, magnesium, copper, and phosphorus. Simply rinse them off after carving, pat dry, toss with olive oil and salt, and roast at 350°F for 20 minutes.
Make Your Own Pumpkin Puree
Slice pumpkin in half, cover with aluminum foil
Bake at 325 degrees for 1 hour
Scrape pumpkin meat from shell and blend in a blender. Strain to remove stringy pieces.
Lifeway Pumpkin Recipes
Perfect for a healthy dessert topped with frozen kefir or for a quick breakfast.
Pumpkin Pie Protein Kefir Smoothie
Move over Pumpkin Spice Latte, our Pumpkin Pie Protein Kefir Smoothie has all of the pumpkin flavor you love, without the artificial ingredients!
Pumpkin Ravioli with Kefir Alfredo
Warm, savory and full of Autumn's flavors, our elegant Pumpkin Ravioli Kefir Alfredo is a dish that's perfect for a special meal.
These mini Pumpkin Spice Doughnuts are lightly spiced, moist, and subtly sweet. They're great with breakfasts, as a snack, or on a table for brunch. Enjoy them with a glass of cold kefir!
Not ready to say goodbye to sun-kissed faces and warm weather, but love pumpkin-flavored everything? Combine the best of both worlds with our Coconut Pumpkin Smoothie. It's rich in potassium, fiber, and of course probiotics making it the perfect fall treat.