We're celebrating Cinco de Mayo in the Lifeway Kitchen with some of our favorite kefir-ized recipes, inspired by Mexican favorites. Nothing says, "fiesta" like a delicious spread of dips, dressing and snacks to share with a group of friends, right? Even better, all of these great dishes are lightened up and pack powerful probiotic punches!
First we're serving our tried-and-true Game Day Guacamole. Creamy with a hint of tang, this avocado dip is perfect with chips, crackers, chopped veggies or as a sandwich spread.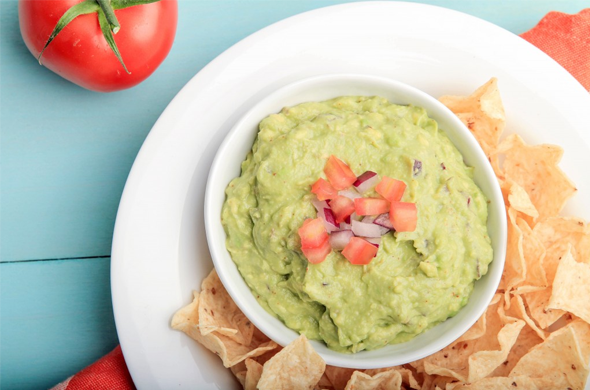 Next, who can resist warm, crispy Kefir Fish Tacos? We let fresh tilapia fillets "take a swim" in our refreshing kefir before dredging them in corn meal and quick-frying them to golden deliciousness. When topped with more kefir, cabbage and jalapeno, it's a party in your mouth.
For dessert, try our refreshing Avocado, Kiwi Frozen Kefir Smoothie. Thick, nourishing and oh so delicious, our super green kefir smoothie is high in vitamin C, potassium, calcium and healthy fats. It's the perfect ending to a #CincoDeMayo feast!
If you're in the mood for something a bit more smoky, we've just perfected our Ancho Chili Avocado Kefir Dip. Creamy, tangy, spicy and crunchy, this dip doubles as a sauce, depending on how much kefir you add. Whether you eat it with chips, on a salad, or on top of a burrito, we know you'll love it!
Ancho Chili Avocado Kefir Dip
2 very ripe large avocados
¾-1 cup Lifeway Lowfat Plain Kefir
1 Tbsp ancho chili powder
¾ cup sweet peppers, chopped
1 tsp garlic powder
1 tsp onion powder
¼ cup minced fresh cilantro, plus more to garnish
Juice of one lime
Sea salt, to taste
A few dashes of preferred hot sauce, optional
Cut open and scoop the flesh of the avocados into a large mixing bowl. Add the rest of the ingredients, except for the kefir, and stir well. Slowly stir in kefir until desired consistency is reached. Refrigerate for at least 30 minutes before serving. Garnish with additional cilantro and/or peppers.