Kefir is more than just a healthy drink! It also makes an effective, nourishing face mask for any skin type thanks to the probiotics and naturally-occurring Alpha-Hydroxy Acid (AHA).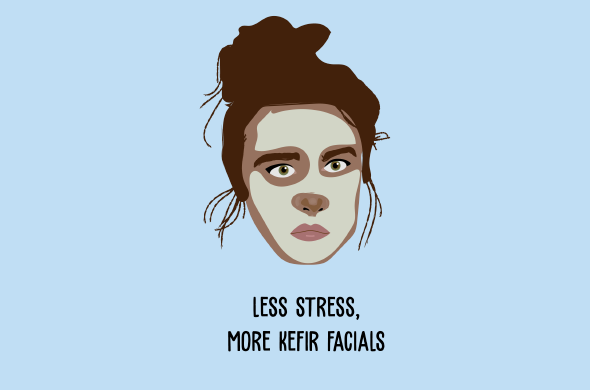 AHA's are a group of chemical compounds that are found in a variety of organic compounds, including fresh fruit, sugar cane, and milk. They're the key ingredient in many skincare products and can help improve the condition of skin by sloughing away dead surface cells and stimulating the production of collagen. But the skin-loving benefits don't stop there. This article on Fashionista says that probiotics might help restore the balance of "good bacteria" to your skin, help with exfoliation, and have an anti-inflammatory effect that can alleviate skin issues like acne and rosacea.
We put together a collection of our favorite DIY Kefir Face Masks, all made with easy-to-find, real ingredients and our Plain Lowfat Kefir. Each mask is sorted by skin type, so choose which one feels right to you. For best results, start with a freshly-washed face and only use our plain kefir.
For Normal/Combination Skin
2 Tbsp Kefir
1 small cucumber
Grate the cucumber into a small strainer over a bowl. Gently press the grated cucumber into the strainer, collect the juice, and discard the pulp. Add the kefir to the cucumber juice and mix thoroughly. Apply to your face and let sit for about 20 minutes. Gently rinse off and enjoy softer skin.
For Oily Skin
2 Tbsp Kefir
1 egg white
1 Tbsp raw honey
In a small bowl, combine the kefir, egg white, and honey. Mix together and apply to your face for 15-20 minutes. The egg white helps tighten pores, while the antibacterial qualities of the honey help heal skin.
For Dry Skin
2 Tbsp Kefir
1 egg yolk
1 tsp olive oil
Combine the kefir, egg yolk, and olive oil in a bowl and mix well. Apply to your face and let it sit for 15-20 minutes. Wash off and gently pat dry. The olive oil and egg yolk helps restore your skin's natural moisture.
For Acne-Prone Skin
If you have a breakout, your skin is likely inflamed so it's best to stick to a simple mask without ingredients that may further irritate your skin. Apply a couple tablespoons of kefir to your face, and let dry. For best results, you'll want to keep the mask on overnight so either lay your head down on a towel or swap your pillowcase for one you don't mind getting dirty. When you wake up, rinse the mask off and continue with your regular skincare routine.
For Skin that Needs Extra Moisture
1 Tbsp Kefir
1 Tbsp honey

½

ripe avocado
Mash the avocado in a bowl with a fork until creamy. Add the honey and mix well. Finally, stir in the kefir. Thinly apply the mask to your face and allow it to dry for 15-20 minutes. Avocados are high in monounsaturated fats and act as a great moisturizer.
Do you have a favorite go-to face mask made with kefir? Share it with us on Facebook, Twitter, Instagram