Last night, the Academy for Global Citizenship's 4th annual Chef's Playground fundraising event took place at Chicago's Art Institute in the Modern Wing. Twenty high-profile chefs, local and national celebrities, and business innovators gathered to sample tasty treats in support of the academy's mission to empower all students to positively impact the community and world beyond.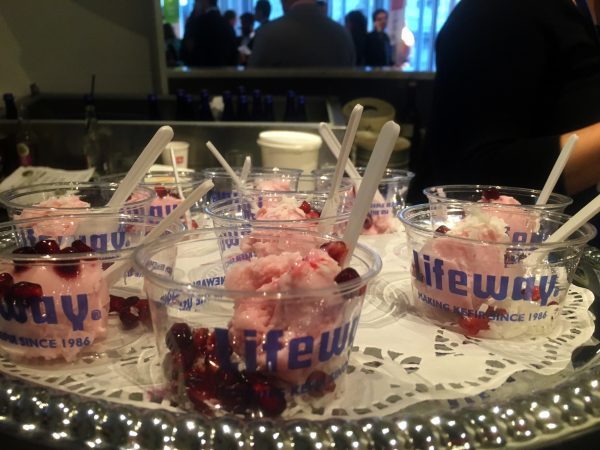 "The Academy for Global Citizenship is a Chicago public charter school located on the under-served southwest side of Chicago. Their innovative and holistic approach to education aims to foster systemic change and inspire the way society educates future generations."
As a sous chef sponsor, our Farmer Cheese and Strawberry Low Fat Kefir were each featured in different original recipes, created just for the event! If you weren't lucky enough to sample these delicious dishes in person, don't worry! We're here for you. We snagged the recipes just for you, so you can make them yourself at home, or surprise guests at your next cookout (summer is almost here, after all!). Check them out below.
First up is a Kefir Cocktail from GreenRiver's Head Bartender Julia Momose:
Ichigo Au Lait Cocktail Recipe
Ingredients
1 oz North Shore Aquavit
1 oz Dry Vermouth
0.25 oz KOVAL Jasmine Liqueur
Basil Sprig
Method
Combine ingredients in a shaker tin. Add ice, and shake briskly until proper chilling and dilution is achieved. Fine strain over a large piece of ice. Garnish with a basil sprig. Serves 1.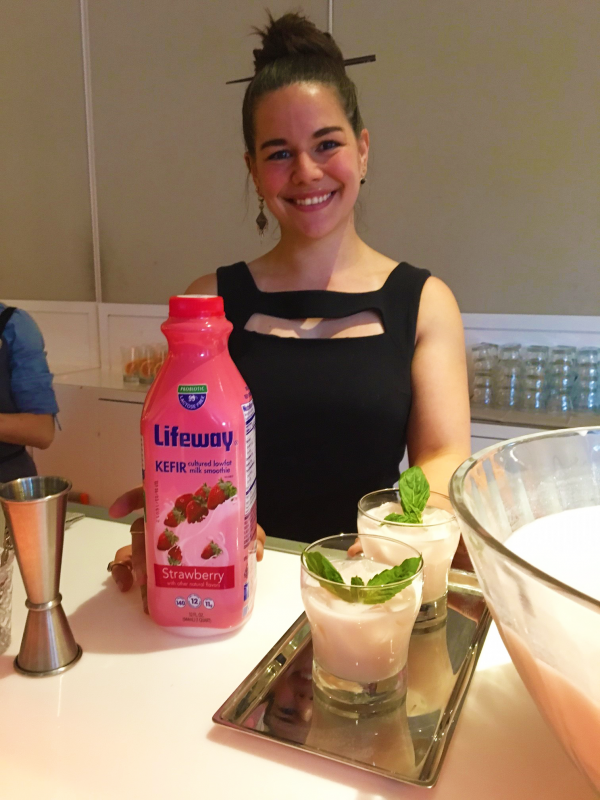 Next we have a super fun take on traditionally terrible cheese whiz from Dixie Chefs Charlie McKenna and Tony Quartaro:
Pimiento Cheese Whizz Recipe
Ingredients
2 Tbsp butter
1 ½ Tbsp all-purpose flour
¼ cup water
4.5 oz Wisconsin cheddar cheese, cut into cubes
1 ½ tsp salt
1 tsp mustard powder
¼ tsp cayenne pepper
½ packet of powdered gelatin (about 1 ¼ tsp)
Optional: ISI canister with two charges
Method
Melt the butter in a small saucepan. Once begins to foam, add the flour and whisk until smooth. Allow to simmer for one minute.
Over medium heat, whisk in the Lifeway Kefir and water. Allow to come to a simmer, whisking constantly.
Reduce heat to medium-low, add Lifeway Kefir Farmer Cheese and Wisconsin cheddar cheese. Continue whisking every few minutes until cheese has melted.
Add salt, mustard powder and cayenne, whisk to combine, and allow to simmer for 3-5 minutes.
If you do not plan to aerate your sauce in a canister, you are finished! If you plan to dispense the cheese sauce in a canister, add the powdered gelatin and three tablespoons of water to the pan.
Whisk gelatin and water into the sauce completely, bring to a boil, and remove from the heat. If you have a blender handy, give the sauce a buzz at this point. If not, whisk it aggressively for 30 seconds. Add sauce to the canister and charge with two chargers. Dispense and use at will! Best served warm. Yields roughly 10 oz or 1 ¼ cup.
For more fabulous kefir recipes created by some of Chicago's finest chefs, check our our Fall 2015 edition of the Made with Lifeway ebook!