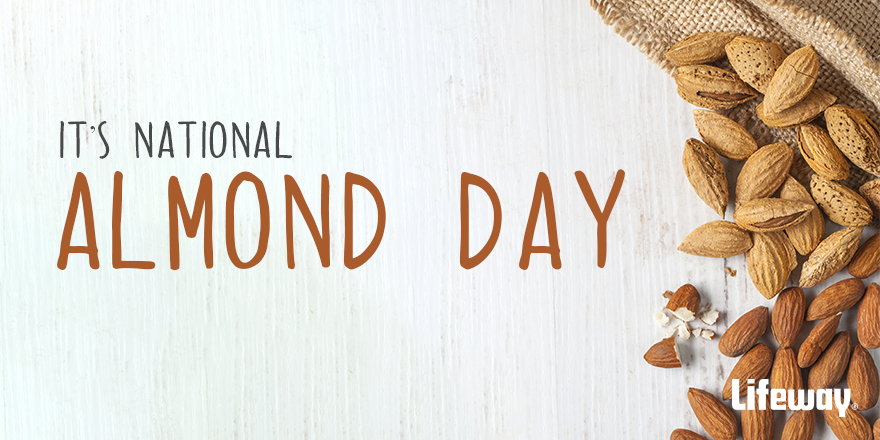 Today is National Almond Day and we couldn't be more psyched. The delicately-flavored nuts pair perfectly with kefir when sprinkled on our smoothie bowls, rolled in our Farmer Cheeseball Bites, or as a yummy filling in our delicious donuts.
Other than offering a crunchy, contrasting texture to creamy kefir, almonds deliver a stellar nutritional profile. They've been shown to reduce dangerous belly fat¹, dampen cravings without contributing to weight gain², and their high vitamin E levels may help lower heart disease risk³.
To help celebrate National Almond Day, ace nutritionist Keri Gans partnered with California Almonds to create a list of simple snacking habits that utilize almonds to make positive changes. Here are a few of her recommendations:
Use a shot glass: It's the perfect measuring tool for a serving size of almonds. (An Altoids tin works, too.) Place each serving's worth in a snack size plastic bag and store a bunch in your pantry; that way, any member of your family can grab a bag and go.
Power your workout: Top a slice of 100% whole grain bread with almond butter for a 1-2 protein punch.
DIY trail mix: with almonds, dried fruit (cherries, raisins, crasins – whatever you like) plus some high fiber cereal (just watch the sugar).
Keep snacks to 200 calories or fewer: Remember, these are mini meals, not dinner-sized portions.
Never forget your water. It's the snack you should never leave home without. Often times we turn to food when actually, we're simply thirsty. Stash a bottle in your car, one in your bag and another at your desk at work.
Sources
1: Berryman CE, West SG, Fleming JA, Bordi PL, Kris-Etherton PM. Effects of Daily Almond Consumption on Cardiometabolic Risk and Abdominal Adiposity in Healthy Adults with Elevated LDL-Cholesterol: A Randomized Controlled Trial. Journal of the American Heart Association 2015;4:e000993 doi: 10.1161/JAHA.114.000993
2: Tan YT, Mattes RD. Appetitive, dietary and health effects of almonds consumed with meals or as snacks: a randomised, controlled trial. European Journal of Clinical Nutrition 2013; 67: 1205-14
3: http://www.whfoods.com/genpage.php?tname=foodspice&dbid=20